Mobile app and integration to website. Learn about mobile app design and development for Android and iOS smartphone devices to boost user rates.
Mobile Apps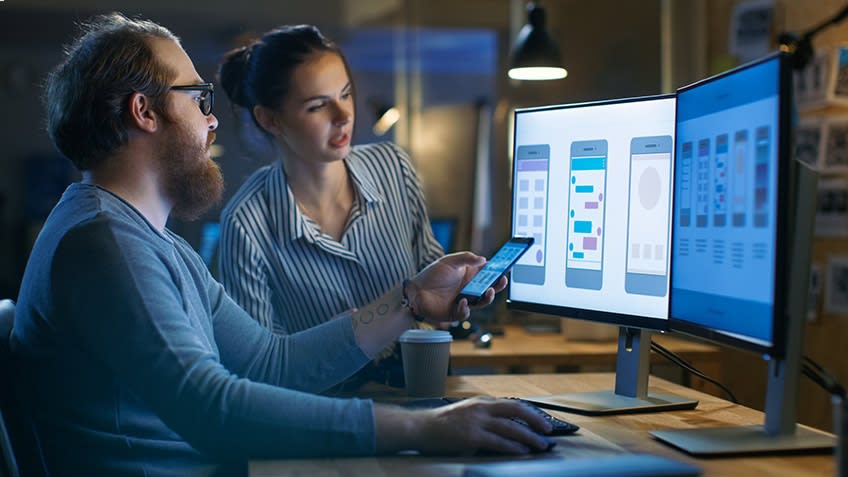 The reasons we have apps is pure functionality, speed and direct access. When it comes to data the information is stored on the phone rather than web servers when using the websites directly.
Apps are big business, it's not about providing the free service, it's the functioning appeal. Do you really need an app for your website? Well, if not, the likelihood is that you still may need one. Such is the commonality; it now becomes less and less of a case that browsers get used.
Lightboxdigital builds the very best apps that really help our clients to make real profits. When it comes to developing and designing your app, we will work with you on every single step of the process. We look to create an engaging and innovative digital experience and environment for your clientele.
Our work will ensure that your application delivers the very best and innovative functionality in a user-friendly and straightforward way.
We build our apps to be lightweight so that users are not losing storage space on their devices. The average smartphone mobile app is roughly 3 Megabytes, ours are designed to be between 2.4 and 2.8 Megabytes.
Do you need an app?
If you are perhaps wondering about the different ways in which your business can better reach your target audience, then it should be of great consideration to adopt a mobile app because it can help you. On a psychological level alone with younger groups, apps are seen as the only way to get hold of a service and use whatever business they show interest in. Now, it may appear as an extra expense given it is a free app to download in the market, but the popularity will be one of potentially high profitability.
Through us, you can create customised smartphone applications, and you can also produce and develop the app to integrate the brand and identity of the business so that it can directly communicate and engage with your target market.
Our development services within the field of mobile application have helped big companies to further increase their clientele engagement. We have been at the forefront of optimizing customer journeys across app platforms, and from this work and our specialist development, we are also proud to have increased their conversions and their repeat customer turnover. This is a level of service that we can guarantee for your business once it adopts the mobile application we build.
High quality customer engagement
There are many more people using mobile devices these days to find information and access websites that they need. Mobile devices allow you to now reach a far wider audience and it is there inside every pocket and the service allows you to message all of your audience with one click.
The days of PC desktop being the go-to device are long gone now, there is no real way back for it, so mobile apps are very much a necessity to stick with the forward-thinking technology and trends that dictate where our industry of web design is heading. This is entirely why we have a mobile first approach to all digital projects.
Be different
It is our task to make your business become unique. It is under our design and development that your brand will be wonderfully different and from it, appeal more to your target market. We look to eliminate any same market competition by providing those that visit the site with a personalized bespoke in-app experience. We will look to increase the user engagement through bespoke and targeted offers, through smart advertising, and by offering customers their own one-off exclusive and unique benefits.
How we do all of this is very simple. Our mobile application development service is solely created and based around you, our client.
We look to produce and create the very best mobile app for your online business. This is regardless of what industry you are in and what target group you are aiming your products at. First, it is and must always be the high quality of the application development.
If, by chance, you would require a more user-friendly version of your website, then getting integrated with a mobile app service will provide this and it is something we can wholly work with.